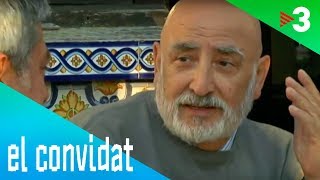 Interview with Peret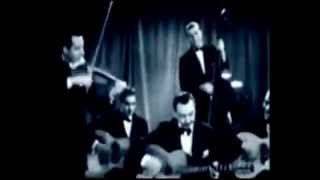 Django Reinhardt
Ochéntame otra vez: I am a Rom
Gift of language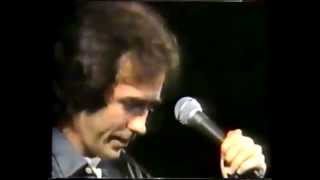 Joan Manuel Serrat and Camarón de la Isla. La Saeta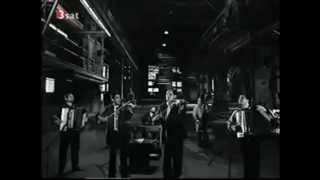 Taraf de Haidouks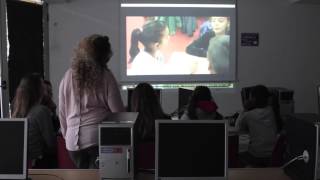 Local Strategy with the Roma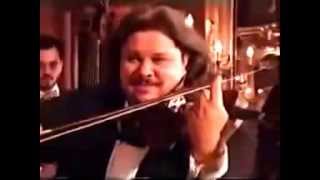 Roby Lakatos
Manuel Molina
Interview with Peret

This is one of Peret's last appearances on Catalan Television. The presenter of the programme "El convidat", Albert Om, shared a weekend with the artist to delve into his innermost world.

Django Reinhardt

The history of jazz and the guitar are joined by a name, Django Reinhardt, a Belgium-born Romani musician who fascinated everyone with his techniquee and rhythm in the first half of the 20th century. The son of nomadic artists, Django soon began his musical career in the clubs of Paris in the 1930s. When Django was becoming a recognisable figure in the world of Hot Jazz, one night the caravan where he lived caught fire and he suffered severe burns on his legs and left hand. Everyone thought that Django would not play again, but a relative brought him a guitar in hospital where he spent more than a year. During his time in the hospital, not only did he have to learn to walk again but also had to learn to play the guitar again, but this time with two fingers fewer on his left hand which had been paralysed by the accident. That meant Django created his own technique for playing the guitar, and his artistic talent and technical virtuosity grew to the point of creating a new musical style, Gypsy Jazz or Jazz Manouche. Django was considered one of the finest jazz musicians of the time, comparable to Louis Armstrong, Duke Ellington and Sidney Bechet. These videos show Django Reinhardt playing "Dinah" with the musical quintet with which he achieved his greatest successes.

Ochéntame otra vez: I am a Rom

Spanish TV's "Ochéntame otra vez" programme, which reminds us of different situations and aspects of the 1980s, has dedicated an episode to the Roma. The programme looked back at the challenges the Roma faced for their inclusion in 1980s society, a society which had just embraced democracy and hopes for progress and equality. In interviews with people such as Amara Montoya, president of the Romí Sersení Romani women association, Juan de Dios Ramírez Heredia, ex-MP, and artists Manuel Montoya, Raimundo Amador and Antonio Carmona, the programme reviewed the most significant milestones and events for Roma with a diversity of opinions.

Gift of language

Apart from the Spanish and the official languages of each region, there are many languages and dialects in Spain which are unknown to most people. One of the episodes in Spanish TV's "Comando Actualitat" programme was about these languages, including Caló and Romani.

Joan Manuel Serrat and Camarón de la Isla. La Saeta

All of us will have heard the famous saeta or sacred song by Antonio Machado popularised by Joan Manel Serrat and with a version later on by Camarón de la Isla. Romani singers often turn to the words of the great poets, words in which Romani artists see their feelings recognised and put them to music to express them. Antonio Machado and his father and brother were writers who approached the Roma and sought to collate their idiosyncrasies in the late 19th and early 20th centuries. Below are the versions by Joan Manuel Serrat, live at the Tivoli theatre in 1984, and Camarón de la Isla with Tomatito and also featuring Serrat.

Taraf de Haidouks

Romani musicians have always transformed local folklore by contributing their oriental essence and virtuosity. One of the most significant kinds of European music is produced by Romanian Romani musicians, who combined the Turkish and Balkan traditions to create exciting music that has achieved great popular success. Taraf de Haïdouks is probably the most internationally recognised group of Romanian Romani musicians. Below is a live recording of them playing "Turceasca" and also their appearance in the film "Latch Drom" by Tony Gatlif.

Local Strategy with the Roma

Barcelona City Council's Department of Women and Civil Rights and the Municipal Council of the Roma have drawn up a local strategy to promote the inclusion of the Romani community in the city. They have made the following explanatory video to show people what the scheme is about.

Roby Lakatos

Hungary is the country in Central Europe where the Roma have most been able to develop their skills as professional musicians. As in the rest of Europe they revamped local folklore and turned it into lively and popular music. The Csárdás is a musical style dating back to the 18th century could not be understood without the role of Hungarian Roma. Roby Lakatos is widely seen as one of the most talented Romani musicians, descendant of a legendary family of violinists and the best performer of this music style. Below he performs Monti's famous Csárdás, and a theme that superbly blends Jewish and Romani music (Klezmer Suite)

Manuel Molina

We said goodbye to Manuel Molina, an artist with a unique style who revolutionised flamenco with his poetry and his personal way of playing the guitar. Manuel is one of those rare artists who are liked by young and old, Roma and non-Roma, flamenco fans and non-flamenco fans, able to play at the purest of flamenco festivals like Canet Rock, and the most symbolic thing about him is just that, that his music has always been full of purity and at the same time heterodoxy. Here is the documentary about the artist made by Tao Ruspoli for his film "Being in the world".